Future Promise Students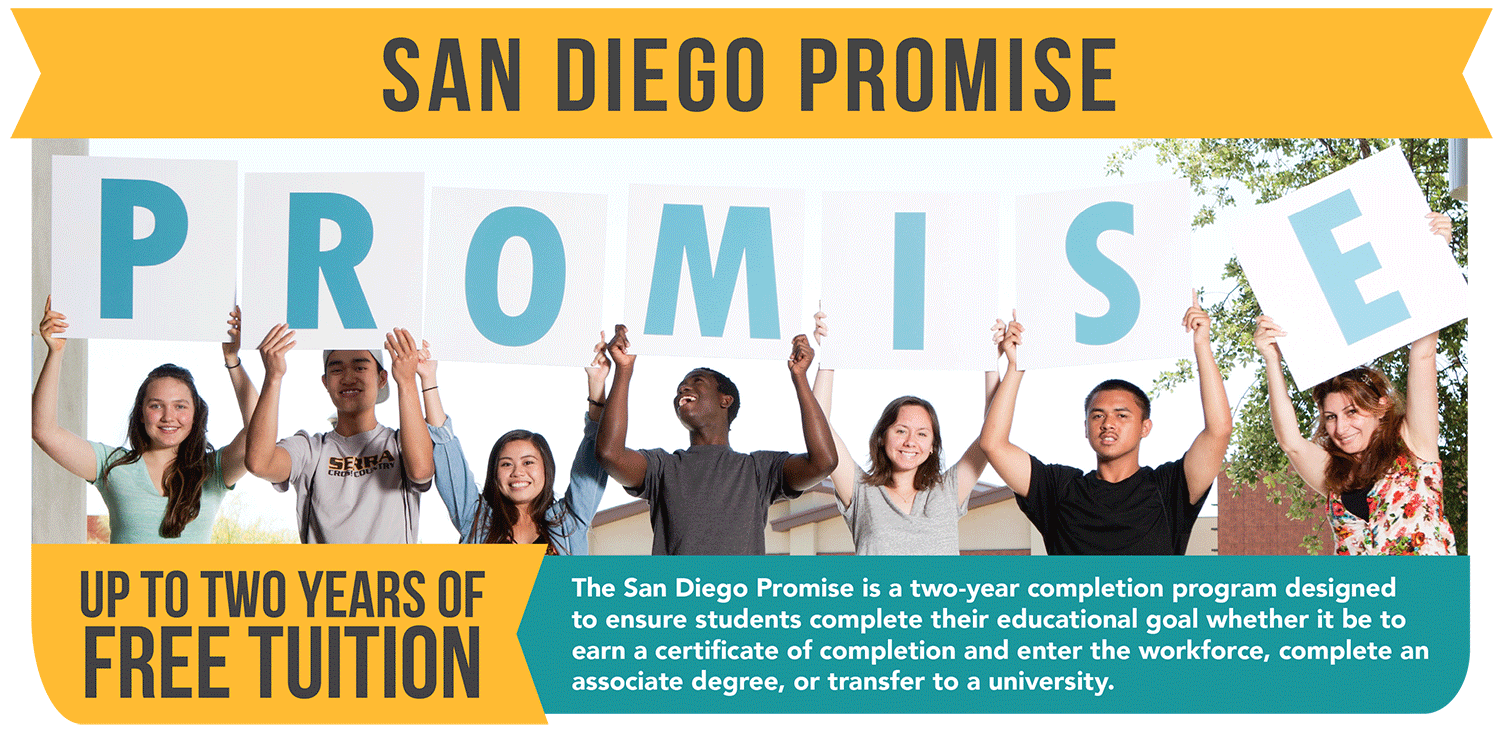 Eligibility
Must be a California resident for tuition purposes or AB 540 eligible. Click here for more information on AB 540 eligibility
Complete a 2019-2020 FAFSA or Dream Act application
Must be a class of 2019 high school graduate
---
Program Requirements
Attend an on-campus Promise orientation
Sign a Promise contract
Enroll in at least 12 units by September 3, 2019
Meet with a counselor each semester
Complete a Personal Growth course in the first year
Complete a comprehensive education plan by the end of the first year
Maintain a 2.0 or higher grade point average
---
Benefits
From specialized counseling to help with creating a comprehensive educational plan, and guided educational pathways, the San Diego Community College District is committed to making sure that students participating in the San Diego Promise reach their educational goals.
San Diego Promise participants also receive a variety of support services, including regular meetings with a counselor, participation in workshops, and frequent email reminders to assist them in remaining on track.
Such services are playing a key role with the District having some of the highest student completion rates in the California Community Colleges system and a 45 percent increase in degrees conferred since 2014.
---
Getting Started
Complete steps 1-4 by June 28, 2019 for priority registration and admission to the program
Step 1: Complete a Fall 2019 Admission application to City, Mesa, or Miramar College
Step 2: Complete a 2019-2020 Financial Aid (FAFSA) or Dream Act application
School Codes for FAFSA or Dream Act applications:
City College: 001273

Mesa College: 001275

Miramar College: 014172
Step 3: Complete a Promise application for your campus.
Step 4: Complete an online orientation, English and math placement assistant, and meet with a college counselor for an abbreviated education plan.
Step 5: Attend an on-campus Promise orientation and sign your Promise contract.
Step 6: Register for classes, be sure to register for the classes listed on your education plan.
For additional information on the San Diego Promise Program, please contact our Outreach offices: