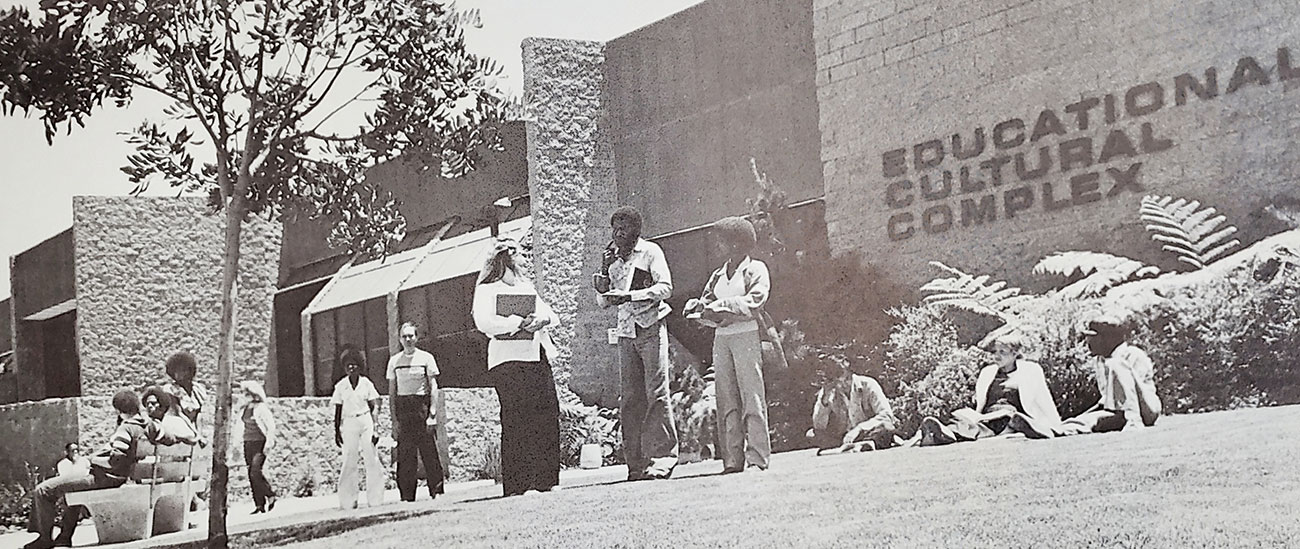 Educational Cultural Complex celebrated for role in civil rights movement
February 10, 2020

|
Legendary musical artist Stevie Wonder performed there. So did celebrated poet and author Maya Angelou. Shirley Caesar, known as "The First Lady of Gospel Music," debuted her song dedicated to Martin Luther King, Jr. — "Martin" — there, too. James Meredith, the first African-American to enroll at the University of Mississippi, addressed an audience at the site, and Jesse Jackson has served as a guest speaker on more than one occasion.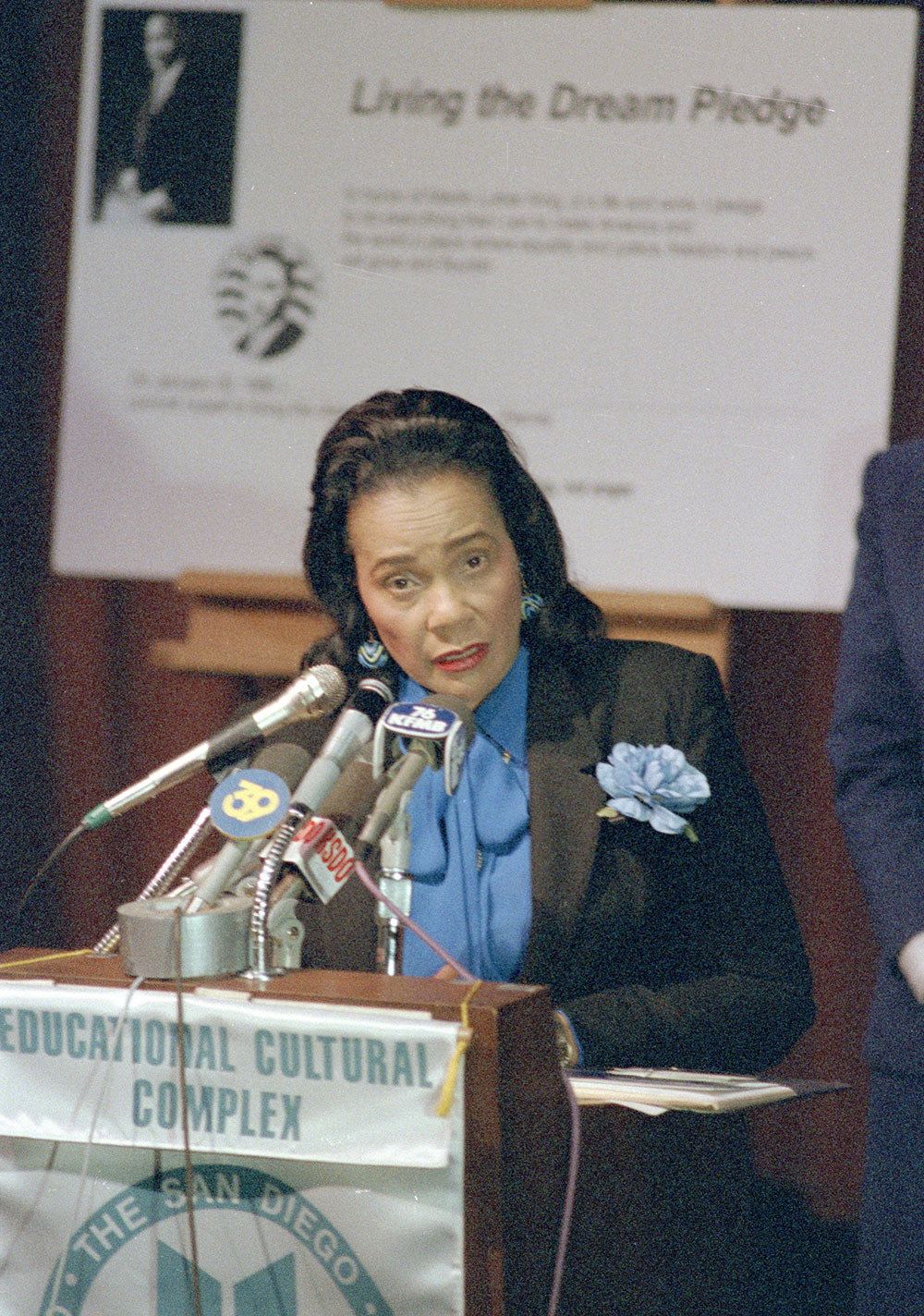 Historic? Clearly. Now the San Diego Community College District (SDCCD) and others are advocating to have San Diego Continuing Education's 44-year-old Educational Cultural Center (ECC) in Mountain View designated as an official civil rights landmark — both for celebrating art in a neighborhood bereft of theaters showcasing the area's culture and for opening career and higher education opportunities in an economically disadvantaged community.
At the time, said Vernon Sukumu, a community activist and Navy veteran who worked for the Urban League, career opportunities for minorities were limited. "I know that's hard for people to even grasp — that no city, no county jobs were available to us."
See the Educational Cultural
Complex history timeline
Today, ECC is the center of a comprehensive continuing education program serving approximately 40,000 students, many of whom transition to San Diego City, Mesa, or Miramar colleges for associate degrees. Offerings at ECC include everything from culinary arts to computer programming. And it houses the groundbreaking San Diego Gateway to College and Career initiative connecting opportunity youth with paid internships, connections to industry, support in securing a high school diploma, and an intensive, 40-hour college and career readiness course.
"ECC has been stalwart in the civil rights movement in the city of San Diego and I would certainly agree that it has had a positive effect and should be acknowledged," said former Continuing Education Provost (1988-90) and President (1990-92) Robert Matthews.
Current Continuing Education President Carlos O. Turner Cortez and ECC's Historic Preservation Committee are among those advocating for the civil rights landmark designation. The SDCCD Board of Trustees adopted a resolution in 2018 supporting the effort and submitting a proposal to the city of San Diego. Continuing Education leaders also are seeking $25 million needed to renovate ECC's historic and legendary theater and adjacent stage dressing room, lobby, community room, and public restrooms. Additional funds are being sought for 25 plaques to mark specific locations, a virtual self-guided tour, a book about Continuing Education's history, a welcome kiosk, and dozens of framed proclamations, numerous awards, and certificates.
"The inclusion of ECC as a civil rights landmark is important because out of the thousands of landmarks in San Diego, ethnic and minority groups are often not truly represented."

Continuing Education President Carlos O. Turner Cortez
The first in a series of fundraisers, hosted by President Turner Cortez, "The Coretta Scott King Inaugural Benefit: A Gospel Brunch to Support the Historic Preservation of ECC," is scheduled for March 7.
"The inclusion of ECC as a civil rights landmark is important because out of the thousands of landmarks in San Diego, ethnic and minority groups are often not truly represented," said President Turner Cortez.
ECC traces its roots to 1972 when the SDCCD, the city and county of San Diego, and others began pooling funds to buy the Preble-Sachem Naval Housing Development on Ocean View Boulevard. The city allocated $1.5 million, adding some $400,000 from its Model Cities program. San Diego County contributed $467,000 to the effort that, in 1974, culminated with a groundbreaking ceremony involving ECC's first President, Dr. Lawrence Davenport, then-San Diego Mayor Pete Wilson, San Diego Urban League Leader Clarence Pendleton, and others.
ECC opened in spring 1976 serving students in programs such as auto mechanics, graphic reproduction, electronic assembly, and skills labs for clothing and textiles, and office workers. In the following years, the center would earn a reputation as a hub for art, learning, and activism. The city's annual Dr. Martin Luther King, Jr. Parade was launched there; King's widow, Coretta Scott King, delivered a speech there in 1985; and Zeta Sigma Lambda chapter of the Alpha Phi Alpha fraternity met there regularly and would play a role in creating the California Commission to Establish the Dr. Martin Luther King, Jr. Holiday. Both the city's Mountain View/Beckwourth Library and the Common Ground Theatre, which is home to the third-oldest African-American community theater company in the nation, are situated at the Ocean View Boulevard location.
In celebration of ECC's 40th anniversary in 2012, then-San Diego City Councilmembers David Alvarez, Myrtle Cole, and Marti Emerald issued a proclamation honoring its contributions.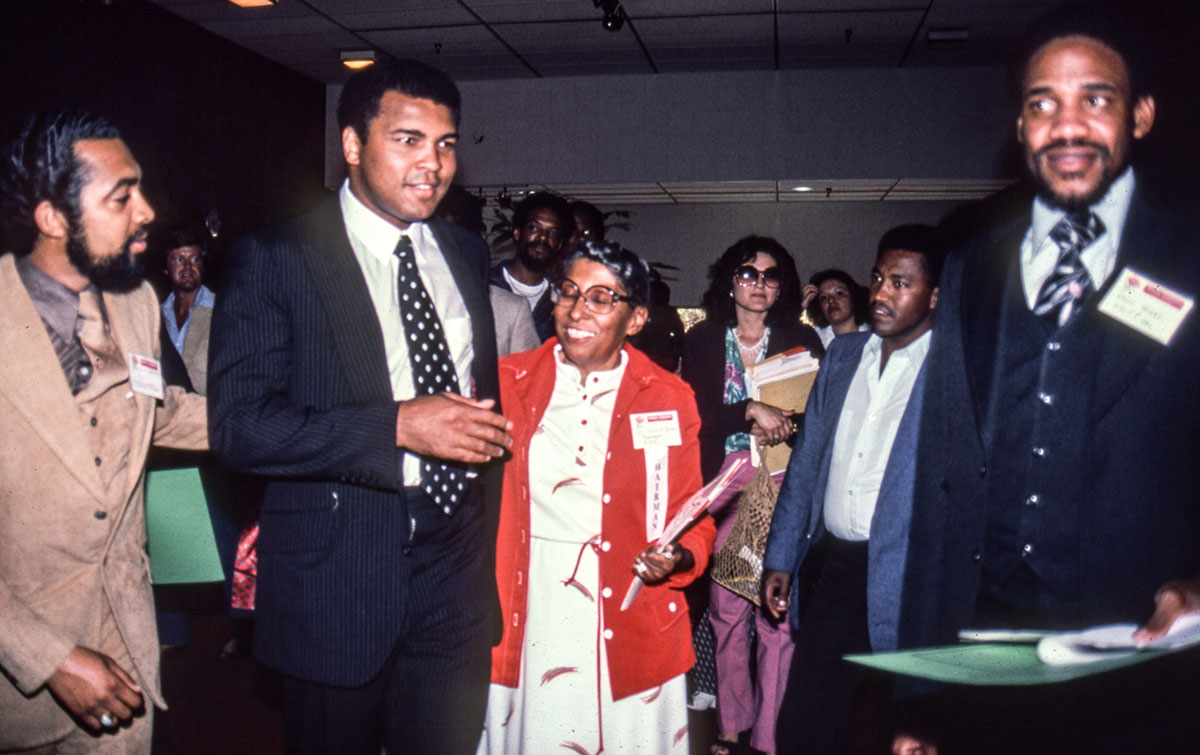 "We've had so many special people on this campus," Matthews said. Indeed, Stevie Wonder staged a show at ECC in 1986, and civil rights activist and poet Maya Angelou performed and spoke at ECC in 1987. When it opened, the San Diego Union called the 300-seat theater "the best medium-sized playhouse in the city."
In addition, ECC, for several years hosted a World Econoculture Conference as part of a larger World Econoculture Project that a 1982 San Diego City Council resolution noted served as "an important link between international cultures and economies" and drew ambassadors, dignitaries, and statesmen from Nigeria, Ghana, Senegal, and Egypt, as well as the United Nations. The 1983 World Econoculture Conference three-day event, titled "Diologo de las Americas," brought together a cross-section of the San Diego and Baja California academic communities and aimed to address "specific cultural and economic issues in Mexican-American relations."
"Using ECC to develop the World Econoculture Project program enables the campus to fulfill its purpose of combining education, culture, and communication in its public role," said Lillian K. Beam, who served as ECC President from 1979-1984 and was a driving force behind the project.
Said longtime resident Wilbur Smith about recognizing ECC's impact on the community: "I think it's important because ECC, in a way of speaking, was at the center of the cultural revolution in Southeast San Diego at the time, so I think a historical designation is quite appropriate, because it brought a lot of people together — it brought a lot of ideas, a lot of energy."