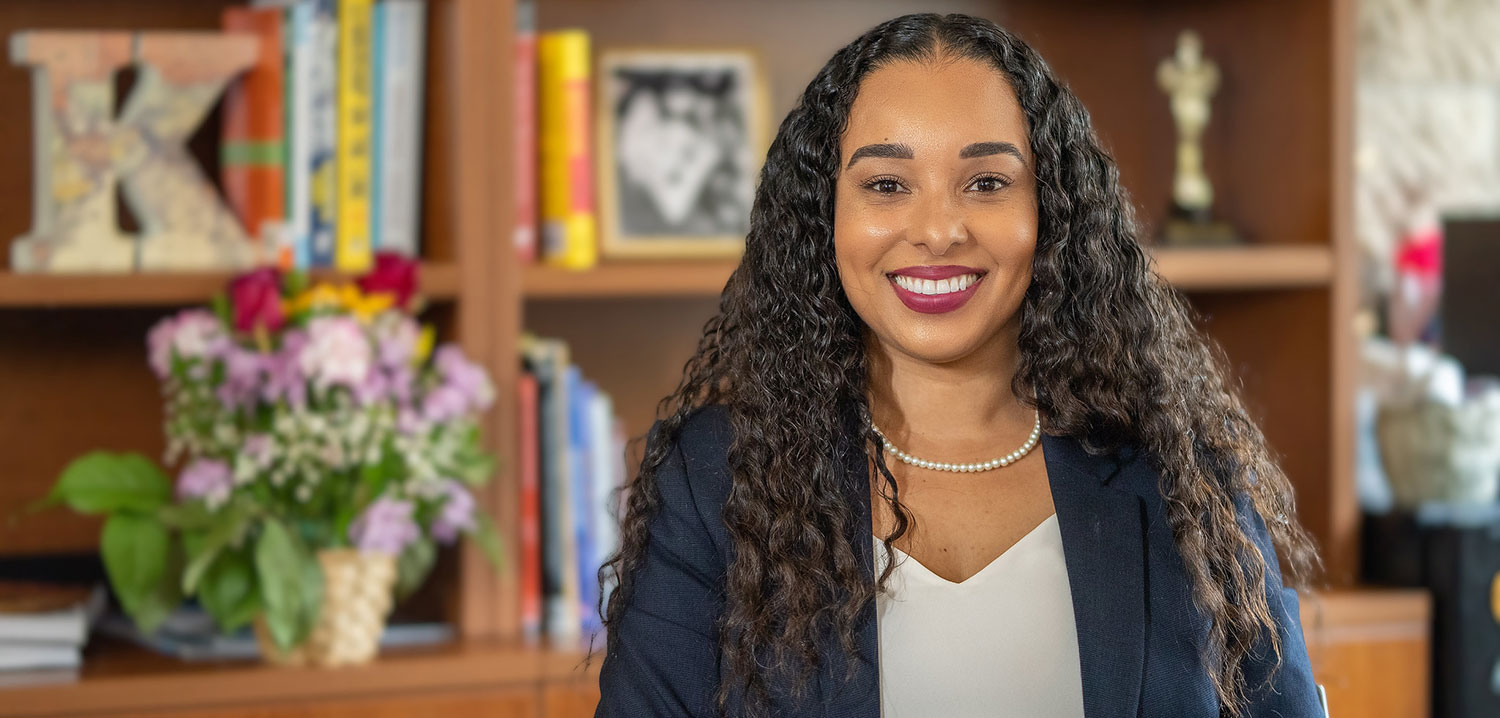 Dr. Tina M. King takes the helm at the College of Continuing Education
July 14, 2022

|
San Diego College of Continuing Education welcomed Tina M. King, Ed.D. as its new president on July 1, 2022. A humanitarian academic leader, King's life's work driven by social justice reform that mirrors SDCCE's mission to provide accessible, equitable, and innovative quality education and career training to adult students and its role in American Civil Rights.
Dr. King is SDCCE's first female, Afro-Latina President since Dr. Lillian Beam in 1990. She succeeds Carlos O. Cortez, Ph.D. who became Chancellor of the San Diego Community College District.
"I am honored to join SDCCE, which is woven into the history of America, and to join a district known for its social justice values and who has always pushed students at the forefront," said Dr. King. SDCCE is one of the state's largest providers of free workforce training and is the noncredit college at SDCCD. Prior to becoming a part of the SDCCD, SDCCE's history began in 1914 inside classrooms at San Diego High School.
Bringing affordable housing to SDCCE campuses for students and employees, opening health and wellness centers, and restoring SDCCE's historic Educational Cultural Complex with a $35 million renovation grant from Governor Gavin Newsom's 2021-22 State Budget are among Dr. King's key areas of focus during her first year as president.
SDCCE's work is deeply personal for King, who comes from a migrant family. Her grandparents on her mother's side, born in Mexico, were farm workers in the 1970s. Her father's parents came from the Southern states, Louisiana, and Mississippi, during an era of major racial oppression.
King's mother, raised her and her 5 siblings while going back to school in her thirties at a noncredit institution in Los Angeles to earn a high school diploma/equivalency and a certificate in management. The certificate opened doors for her mother to begin working at a Los Angeles Unified School District Cafeteria 30 years ago, where she will be retiring in a couple more years as manager.
"Her achievement changed my entire family's trajectory." said Dr. King, who credits her mother as the driving force behind her long-term career in academia.
Dr. King earned a Doctor of Education in Educational Leadership from California State University, Fullerton where her dissertation focused on the role of community college faculty and staff in creating academic achievement for Black men. She holds a Master of Arts in Education from the University of Southern California, and a Multiple Subject Credential and a Bachelor of Arts in Liberal Studies from California State University, Northridge.
Prior to her arrival at SDCCE, Dr. King served as assistant superintendent/vice president of Student Affairs at Southwestern College, Interim Dean of Instruction and Student Services and director of Institutional Research and Planning for North Orange Continuing Education in Anaheim, and as a student affairs officer and student affairs advisor in the Educational Leadership department at California State University, Fullerton. Dr. King also has experience in K-12 education both as a learning facilitator with the Los Angeles Unified School District and as a middle school teacher at the Compton Unified School District.
Dr. King was named a 2021-22 Aspen Rising Presidents Fellow, a highly selective leadership program that prepares top education professionals to become highly effective leaders of community colleges.
With a notable passion to remove barriers for students of color and social justice, Dr. King is a great fit for SDCCE, where students are among the most vulnerable populations in California. Half of the student body of 30,000 students at SDCCE is made up of immigrants, refugees, and English language learners. People enroll at SDCCE to rebuild or create lives in the United States through free workforce training certificate programs, English as a Second Language (ESL), Citizenship, and High School Diploma/Equivalency classes.
"We are the people's college," said Dr. King. "That is what I love about SDCCE, it's heavily rooted in community, social justice, and activism."
As San Diego's economy recovers from the COVID-19 pandemic, businesses are in desperate need of skilled workers. For King, this is an exciting time to boost enrollment, and to seek additional fundraising and development to open inaugural health and wellness centers, LGBTQIA+ centers, and build upon paid pre-apprenticeship opportunities. She will work alongside SDCCD and Chancellor Cortez to bring affordable housing to SDCCE campuses for employees and students — the college would be the only noncredit institution in the nation to offer housing.
"My priority is to support students in gaining real world industry experience to place them in jobs with living wages," said Dr. King who is actively seeking to expand SDCCE's industry partners in priority workforce sectors. Current partners at the college provide students with entry level jobs in the information technology field, in hospitals, and with pre-apprentice opportunities or direct pathways into union wages and benefits.
SDCCE has seven campuses across the county from Barrio Logan to Miramar. The college's flagship campus, the Educational Cultural Complex (ECC) was envisioned as a bustling epicenter for entertainment and public service in the heart of Southeastern San Diego 46 years ago.
Since its opening in 1976, sold out performances have taken place by human rights champions, Stevie Wonder, Jessie Jackson, and Maya Angelou. Coretta Scott King's 1983 address with the California Commission at ECC influenced President Ronald Reagan's decision to sign the Martin Luther King, Jr. holiday into law.
Chancellor Cortez, who previously served six years as president of SDCCE, led the charge alongside the college's Historic Preservation Committee to seek funding to preserve the building's affluent history. As a result, California Senate President pro Tempore Toni G. Atkins announced on October 1, 2021, a $35 million grant to renovate ECC.
As incoming president, Dr. King will further this work and oversee renovations, the project is estimated to be completed in 2024. SDCCE's Historic Preservation Committee is working with the city of San Diego and state officials to have ECC named as a Civil Rights Landmark Designation.
Dr. King will make her first public appearance as SDCCE President during the San Diego Pride Parade on Saturday, July 16, where she will be marching alongside her husband, Frank Harris, III, Ed.D., and their children.
"Everything I do, I make sure my family is a part of it. By including them in events such as the San Diego Pride Parade, I am showing them how transformational SDCCE is, a symbol of civil rights and justice," she said.