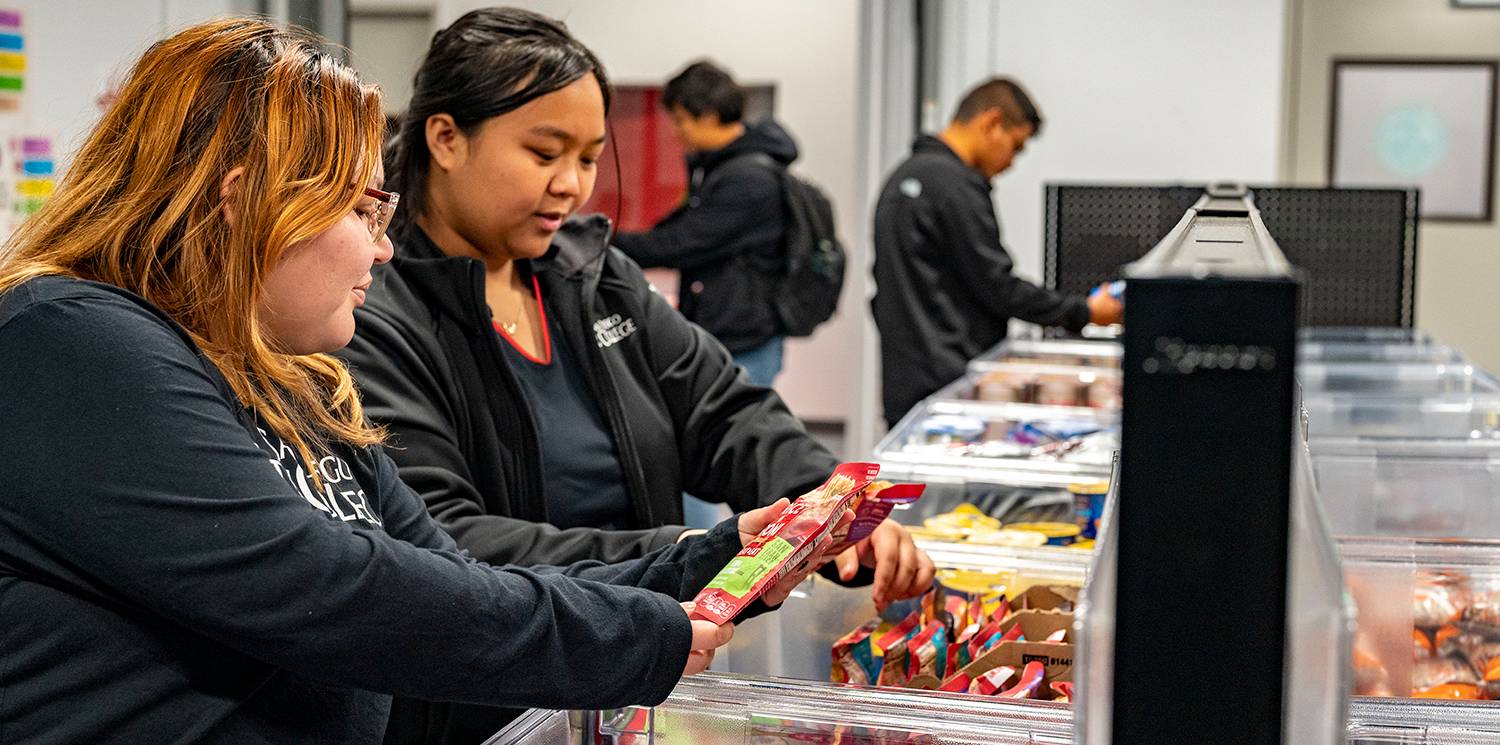 Fighting hunger at the Knights' Table
April 4, 2023

|
It's alarming but true: A significant number of community college students may be facing food insecurity. To combat this issue, San Diego City College has taken another step in its initiative to keep those on campus from going hungry.
According to the California Community Colleges, 50% of students who responded to the recent #RealCollege Survey said that they had experienced food insecurity in the last 30 days. Twelve percent of students said they had to skip eating for an entire day because they couldn't afford a meal.
Whether they don't know where their next meal is coming from or have difficulty finding the funds to purchase nutritious food, at City College students can turn to the Knights' Table, the campus' revamped food pantry, for a helping hand.
The food pantry, called Knights' Table, had a soft opening in November and a formal ribbon cutting in February. The new Knights' Table, expanded from its original space, is one option among a host of services – food, housing referrals and, soon, clothing and other basic needs – available to help students who find themselves in a bind to stay on track.
"The umbrella of basic needs is going to get bigger and bigger," said Adan Sanchez, Ed.D., dean of Student Affairs.
Knights' Table, located in T-150, is "set up like a grocery store," not a food pantry, said new City College Basic Needs Coordinator Nydia Dominguez, but with various sections to browse for everything from ready-to-eat meals, snacks, coffee and other drinks, to canned food, produce, and some refrigerated items such as milk and milk alternatives and yogurt.
"It does feel like you're shopping and not just getting food," Dominguez said.
Those who helped shape Knights' Table wanted it to appear "open and friendly and welcoming," as Dominguez said. In part, Sanchez hoped to ease the "stigma of asking for help" that some students cited as an impediment to using programs like the pantry.
Students, once registered, can access the Knights' Table from 10 a.m. to 2 p.m., Monday through Thursday with just a scan of their campus IDs. It's designed, to be a "really simple process," Dominguez said.
But part of that registration, filling out a basic-needs assessment, has been telling. Students often are facing more than just food insecurity, Dominguez said. Housing costs in an expensive market like San Diego have become an increasing burden, and
expense aside, some students also are dealing with a crisis ― violence for instance ― that has forced them from home.
So, raising awareness of Knights' Table among the campus community may serve as a way to reach students in need of other interventions. The City College leadership is using many tools, from social media to campus posters and announcements sent via the Canvas online hub, to promote the pantry. Traffic there is on the rise as a result, just as basic-needs services continue to expand.
"It's really an opportunity for students to have access to food, on a daily basis if needed … and that's just the beginning of it," Sanchez said.