Creating safe spaces
January 18, 2023

|
Districtwide programs and initiatives aim to increase awareness and promote inclusion so that all members of the LGBTQ+ community may thrive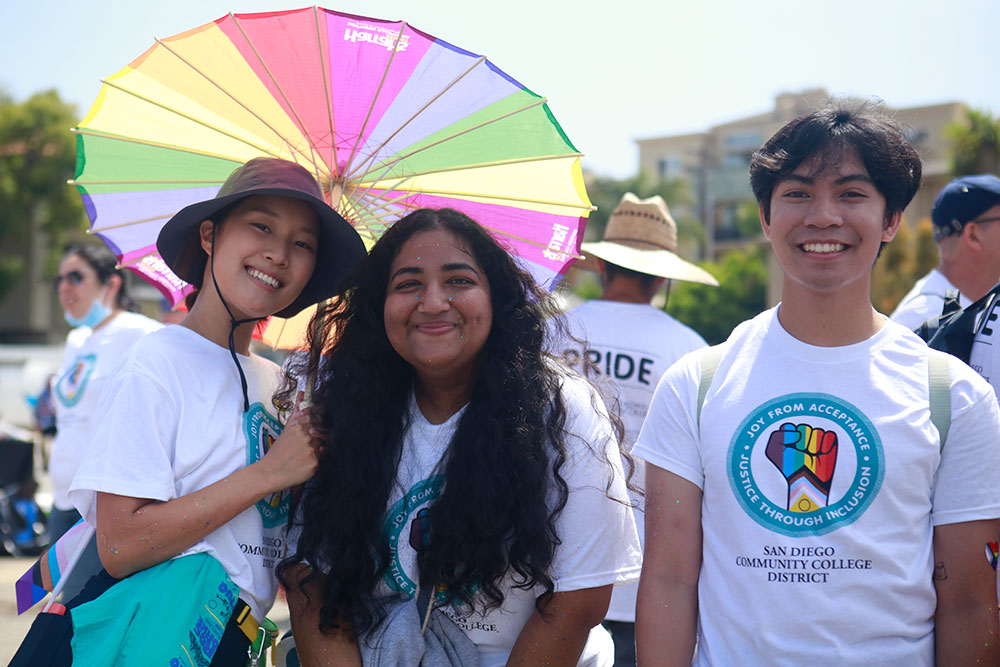 "Community isn't just something you find, virtually or otherwise," penned San Diego Miramar College alum Edward Borek in his 2021 short story titled "To Find Community." "And that's because, to find community, you have to build community." And, that is exactly what Borek set out to do during his time as a Jet and now as an employee.
When he enrolled at Miramar College in fall 2020, isolation resulting from the pandemic was very evident in his life. Borek, who had been laid off from his job that summer and was living alone, said that he was desperate to find some sort of community.
"Everyone was feeling the pangs of pandemic loneliness," he said. Knowing school was continuing on virtually, he decided to reach out to every Miramar College club he could. That is when he met Laura González, a professor and the faculty advisor for the college's Club Spectrum, a LGBTQ+ student organization, who invited him to a club meet-and-greet event online.
While the first Zoom meeting had many attendees, subsequent encounters became just Borek and another student. So, Borek took it upon himself to help build up the community by promoting the group during other club and student government meetings and creating a website for Club Spectrum.
Eventually, he went on to become the club's president, as well as the college's Associated Student Government president and a student representative on the District's Board of Trustees and Miramar College's LGBTQ+ Alliance, a student and employee advocacy committee. It was in these positions where Borek was able to further advocate for the LGBTQ+ community, including an added amendment in the ASG constitution to recognize preferred pronouns and increased availability of gender-neutral bathrooms — of which there are currently five at Miramar College and more than 30 districtwide.
"A lot of work had been laid out before me," he said. "Bringing Club Spectrum, as well as the LGBTQ+ Alliance and the District Queer Alliance into the fold — recognizing them as important stakeholders — was important to me."
By the time Borek graduated with his associate degree in business administration in spring 2022, Club Spectrum was having regular, well-attended events, including virtual game nights, providing volunteer opportunities at campus food distributions, and participating in community events like the San Diego AIDS Walk and Pride Parade, the latter of which the District has participated in since 2015.
Increasing Awareness
Borek isn't the only one advocating on behalf of the LGBTQ+ community to make sure the District has available safe and welcoming spaces for this historically underserved population.
In 2017, González, who introduced Borek to Club Spectrum, developed a Safe Zone training program for Miramar College based on programs she attended at other District colleges and online open access training materials. Today, she and District Research and Planning Analyst Jaime Sykes Seiverd together educate faculty, administrators, and classified professionals with a program that provides knowledge about LGBTQ+ language, tools to increase inclusivity in the classroom and in the workplace, and ideas to build a more sensitive environment. While each SDCCD college has its own Safe Zone training process, González and Sykes Seiverd, as well as additional campus employees, including classified professional Anna Liza Manzo, and San Diego Mesa College Pride Center Coordinator Lucio Lira, are working toward standardizing a districtwide program.
Through Safe Zone training, "We want to create an environment in which everyone can be their authentic selves with dignity and respect," González said. "We want to provide not only education but also practical things that people can do to support the community in their workplace."
At Miramar College, a list of those who have been Safe Zone trained and consent to having their names listed – approximately 120 to-date – is published on the college's LGBTQ+ Resources page. Similarly, at Mesa College the Ally/Out List is available as a resource noting those faculty, staff, and administrators who identify themselves as members of the LGBTQ+ community or allies who proudly serve as advocates for respect, inclusivity, and acceptance.
"While I think there is a lot that needs to happen beyond Safe Zone trainings to ensure LGBTQ+ students feel included, supported, and valued for who they are, I think the Safe Zone program is a positive step forward," Sykes Seiverd said. "It provides committed college employees with the ability to better support their students, knowledge of how to move forward when they make a mistake, and how to see and accept students for who they are and not who they are assumed to be."
Creating Safe Spaces
Sykes Seiverd is also one of about 65 people who are part of a statewide coalition working to improve how information is collected from LGBTQ+ students during the CCCApply admission application process. The committee is putting a focus on making questions more accurate and inclusive from a queer perspective, Sykes Seiverd said, which will improve available quantitative data.
As the coalition includes members from the California State University and University of California systems, the work being done by the group has implications that extend beyond community colleges, Sykes Seiverd added.
Accurate reporting of LGBTQ+ students, who oftentimes face unique challenges at college, is important in making sure they are provided with necessary spaces and support programs. According to a 2019 National School Climate Survey by GLSEN, 68.7% of LGBTQ+ students have been verbally harassed, 25.7% have been physically harassed, and 11% have been assaulted.
During a 2021 focus group conducted by SDCCD Educational Services, a sense of belonging emerged as a top priority among LGBTQ+ students. A lack of queer centers on campus, as well as difficulty locating both general and specific resources were cited as being challenges to the success of the students' educational journeys.
Since the findings were reported, a new Pride Hub for students and employees was opened at San Diego City College to act as "a first stop versus just one stop" for finding a home on campus. Additionally, Mesa College's new Pride Center will have its grand opening celebration on February 22, and both Miramar and Continuing Education colleges are looking into locations for creating a physical space for LGBTQ+ centers.
"We want students to feel comfortable being themselves coming to the Pride Hub and connecting with folks who understand who they are in terms of their LGBTQ+ identity," said Adan Sanchez, Ed.D., acting dean of student affairs at City College. "We want students to learn how to navigate the system and advocate for themselves so that they are able to do so in other institutions and with employers."
The City College Pride Hub was opened in room 207 in the L Building as part of the Intercultural Centers and will share space with the Womxn's Hub. Now that the District's campuses are fully open, the next step, according to NextUp Program support technician Ashley Burch, is for students to take ownership of the hub and "feel like it's theirs to be comfortable in and make it a safe space."
In 2019, College of Continuing Education launched "Be Well CE" as part of a group of Student Services equity programs, including SDCCEats!, which provides fresh produce and food, that help support the well-being and mental health of students, including those in the LGBTQ+ community. A Safe Zone program also is offered to employees and nearly 200 have completed the training.
While still in development, a center at Continuing Education is being imagined as a place to house a repository for LGBTQ+ resources and support; host workshops, forums, and training; provide a drop-in space for students and employees; and coordinate campus and community outreach programs.
Mesa College student Andrea Ashley said having a LGBTQ+ center on campus is a critical addition to the community college experience.
"For students who feel like they don't identify with any other club on campus it's a space they can go, see that flag that represents them and talk about issues facing them," Ashley said. "Some of the issues they face are very unique to the community, so the issues that I face might not be the same issues that a trans person might face. Having the ability to have that space where you can go and talk about that freely and openly is really important."
As an active member of Associated Students and Umoja, Ashley also utilizes the student Veterans Center on campus. Through her involvement in these organizations, she said she has learned "we all come from different walks of life. Everyone is different, but we all want to be treated the same." That is why it was also important for her to become a part of the Mesa Pride Committee and help open the new campus Pride Center.
Celebrating Pride
Walk around the District's colleges and you'll find colorful rainbow banners celebrating "Pride" — a symbol that all are welcome.
For Mesa College alum Lance Nelson, the thought of stepping foot on a new college campus at the age of 30 was immobilizing. But, it was a colorful banner that assured him he belonged there.
"I finally began walking to class and the first thing I see is this big rainbow banner with the words 'Mesa Pride.' I figured I could do this," Nelson said.
In addition to the soon-to-open Pride Center on campus, during the fall semester Mesa College held a student-curated exhibition titled "Pride and Protest: A Celebration of LGBTQ+ Love and Activism" at its Art Gallery that included the artwork of 25 artists celebrating the beauty and creativity that blossoms with self-discovery and acceptance.
For City College alum Rocky Dove, it was because of such personalized messages and events that he felt a sense of community during the short time he was on campus through the pandemic.
"I grew as a person, not only academically, where I realized more of what I was interested in and wanted to study, but also because I learned how to put myself out there, how to seek out resources, and that it's OK to ask people for help," he said. "I learned the value of doing that as a result of going to City College."
Dove specifically cited Burch and Counselor Selam Gebrekristos as being invaluable to keeping him on track and helping him transfer to University of California San Diego, where he is studying philosophy and cognitive science.
Before transferring this fall, Dove also left his mark on City College. He helped advocate and pave the way for the college to establish its own Pride Hub, and, along with a handful of other students, participated in City College's inaugural Lavender Graduation, where he was the introductory speaker.
"It's an important priority to have a space dedicated to LGBTQ+ students," he said. "I was very happy that I could have a role in helping this community."
---
In finding community they found each other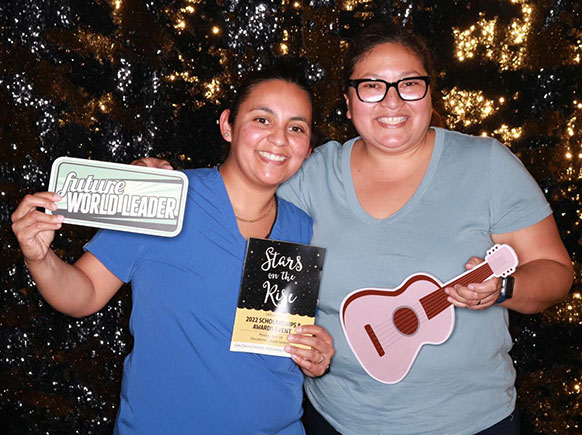 Guadalupe Tovar was taking culinary arts classes at College of Continuing Education eight years ago when she met Jessica Rodriguez — at a carwash, of all places.
A friendship ensued, followed by a romance, and eventually a marriage.
Like most great relationships, the couple inspired each other to learn more, pursue passions, and work harder to build a life together. In fact, Guadalupe encouraged Jessica to take high school diploma and automotive classes at SDCCE.
Jessica now works at Grainger Industrial Supply at SDSU while Guadalupe is studying in the certified nursing assistant program at SDCCE to prepare for a career as a licensed vocational nurse in pediatrics. She currently works at Rady Children's Hospital.
For Guadalupe and Jessica, the encouragement they got from each other and during their time at SDCCE led to career paths where the sky is the limit.
"Continuing Education has given me the opportunity to build a better future for myself and my family," Guadalupe said. "I was at a point in my life where I needed a change in career, and even though I wanted to go to school, financially it had been difficult until I heard about the programs being offered for free at the (Educational Cultural Complex) and decided to give it a try."