Financial Aid Payment Advice
what is a payment advice?
A Payment Advice is a letter (or in this case an email) sent by the college to a student to inform them that their financial aid refund has been deposited into the student's bank account. This email is sent as a courtesy to notify students when a direct deposit has been made.
A sample payment advice is shown below: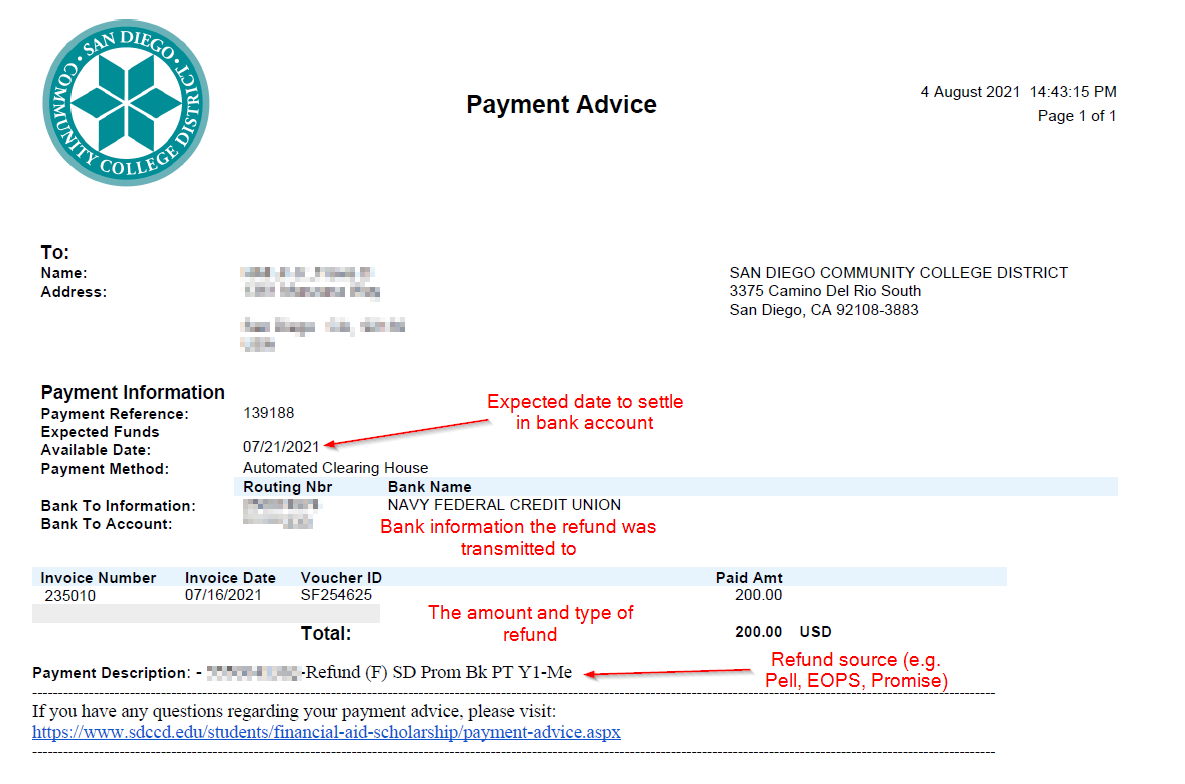 frequently asked questions
Q: I have questions regarding the amount that was deposited, who should I contact?
A: The amount of your financial aid refund is based on the remaining balance AFTER all mandatory fees have been paid for. For example, if a student received a $1,000 Pell grant award and has $400 in mandatory fees (e.g. enrollment fee, health insurance fee, etc.) then the refund balance is expected to be $600.
If you have questions about the amount, please contact your Student Accounting Office:
Q: I'm entitled to a refund after dropping a class, will I recieve a payment advice?
A: Payment advice is only sent to students who are receiving financial aid and signed up for direct deposit. All other refunds are processed via the method of payment (e.g. credit card, cash).
Q: My bank account information is wrong, who should I contact?
A: If the bank account information is wrong, please contact the Student Accounting Office immediately. They will be able to reverse the payment. Please be sure to correct/verify your bank account information in mySDCCD to avoid delay. Note: It may take up to 10 business days to process a reversal and reissue your direct deposit.
Q: I'm missing one of my financial aid awards, who should I contact?
A: Depending on the source of the award please contact the appropriate office:
eops/care
| | | | |
| --- | --- | --- | --- |
| College | EOPS Office | Phone Number | Website |
| CITY COLLEGE | Office A-354 | 619-388-3209 | EOPS website |
| MESA COLLEGE | Office I4-309 | 619-388-2706 | EOPS website |
| MIRAMAR COLLEGE | Office K1-305 | 619-388-7869 | EOPS website |