Handshake
Districtwide Job Board - HANDSHAKE
Make money, gain skills, and build your resume
Students and Alumni
As an SDCCD student, you should have received an email from Handshake inviting you can activate your FREE account today!
Follow these steps to activate your SDCCD Handshake Job Board Account:
Use your email linked to your MySDCCD Portal to create your account at sdccd.joinhandshake.com/login
Complete your profile to search for jobs & internships based on major, interests, & more.
Connect with employers, get job alerts, & apply with a few clicks. GET HIRED!
View job & internship postings below by major / industry. Find a job, launch your career!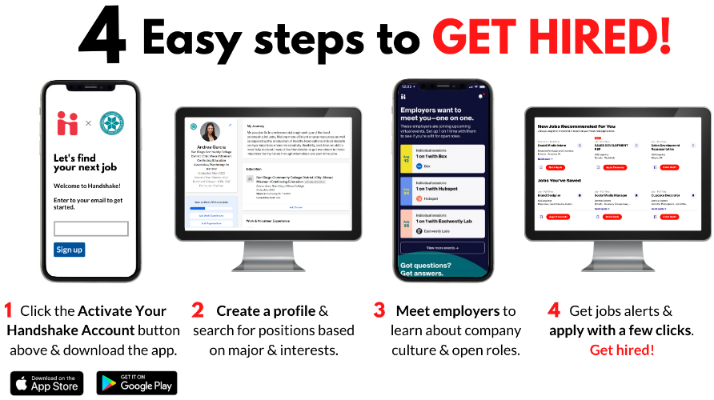 HANDSHAKE ARTICLES & RESOURCES:
Need Help with Activation?
Please contact a Career Center at City, Mesa, Miramar, or Continuing Education for assistance with activating your Handshake student account, job searching, and applying for positions.

FREE PROFESSIONAL CLOTHING and Support for students
If you are preparing for employment opportunities and in need of FREE professional clothing, we have clothes for you!
The Stand at Mesa College - The Stand is located in K105-K106 on the Mesa Campus. FREE food and professional clothing is offered to all students. For more information on The Stands on-going services, click here.
The Jet Fuel Pantry at Miramar College - The Jet Fuel Pantry is located in the Jet Fuel Resource Center in the Student Services Building (K1-211) on the Miramar Campus. The pantry offers both fresh produce and shelf stable goods to provide students with nourishing foods. Visitors to the Pantry must have a San Diego Miramar ID and currently be enrolled in classes. Visitors may use the pantry once a day, Monday - Thursday. Students are also encouraged to visit the pantry to request toiletries, household goods, and clothing items. Since the Pantry is subsidized by a grant from the California Community Colleges Chancellor's Office only Miramar students are permitted to use this resource.
SDCCD EMPLOYMENT OPPORTUNITIES
Are you seeking full-time/part-time employement within the SDCCD (City, Mesa, Miramar, Continuing Education). Search Current Openings here: https://www.sdccdjobs.com/
Employers & Community Partners
Connect with SDCCD through Handshake today! By activating your Handshake account, you'll have access to qualified talent of over 75,000 students from each of our SDCCD campuses - City College, Mesa College, Miramar College, and College of Continuing Education. Create an account and post any jobs/internship positions as they will be widely viewed across our district. Don't miss this opportunity to recruit your future diverse workforce!
Employers logging in or creating accounts using this URL, will automatically request employer approval through our SDCCD Handshake Job Board. We look forward to helping you meet your current employment needs! https://bit.ly/SDCCDHandshakeRecruiting
Handshake Articles & Resources for Employers: