Title IX

Notice of Nondiscrimination
The San Diego Community College District is committed to a safe and equitable learning environment for all students and employees. It does not discriminate on the basis of sex or gender in its educational programs and employment. Any incident, including sex discrimination or harassment, but not limited to, sexual assault including rape, dating violence, domestic violence or stalking committed on district property, or at a district sponsored event or activity, should be reported to the Title IX Coordinator immediately.
Report an incident
Members of the District community can report sex or gender based offenses, including an incident of dating vio-lence, domestic violence, sexual assault, or stalking, to law enforcement, to the District, to both, or to neither. A report does not need to be made by the victim of an incident, but may be made by a third party.

Please use the button above to report a sex or gender based offense to the Title IX Office, or refer below for addi-tional information on your reporting options.
If you are in an emergency situation, please contact 9-1-1 for immediate assistance.
Reporting to the District
Reporting to Law Enforcement
What is Title IX?
"No person in the United States shall, on the basis of sex, be excluded from participation in, be denied the benefits of, or be subjected to discrimination under any education program or activity receiving Federal financial assistance."
Examples of the types of conduct that could violate Title IX include, but are not limited to:
Pressure for sexual activity
Dating or domestic violence
Sexual innuendos and comments
Sexually explicit questions
Requests for sexual favors
Unwelcome touching, hugging, stroking, squeezing
Spreading rumors about a person's sexuality
Sexual ridicule
Displaying or sending sexually suggestive electronic content, including but not limited to emails, text messages, etc.
Pervasive displays of pictures, calendars, cartoons, or other materials with sexually explicit or graphic content
Stalking a person
Attempted or actual sexual violence

LGBT Safe Campus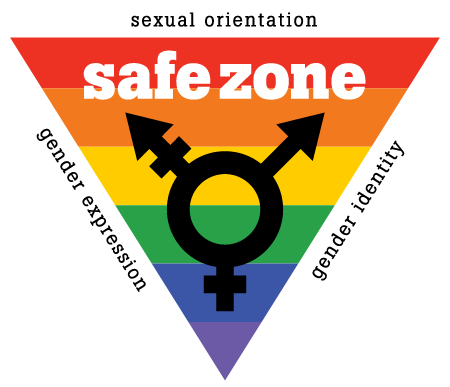 The Office for Civil Rights (OCR) in the U.S. Department of Education requires institutions to protect all students, including LGBT (Lesbian, Gay, Bisexual, Transgender) students under Title IX. San Diego City, Mesa and Miramar College and Continuing Education facilitate and foster an inclusive, affirming, inclusive, and celebratory environment for students, faculty, and staff, of all sexual and gender orientation, identities, and expressions.
Academic Accommodations for Pregnant Students
The following FAQs are intended to provide guidance related to academic accommodations for pregnant students. Please click on the link for more information.
Confidential Resources
If a student is seeking more personal confidential support, there are designated confidential resources at each campus. Offices designated as "confidential" will not report any information to the Title IX Coordinator. These conversations are kept strictly confidential and, except in rare, extreme circumstances (including imminent risk of harm to self or others) nothing will be shared without your permission.

Please refer to the chart below for a list of confidential resources located on your campus:
College
Mental Health Office
Phone Number
Website
CITY COLLEGE
Mental Health Counseling
Office A-180
619-388-3055
Mental Health Website
MESA COLLEGE
Health and Psychological Counseling Services
Office I4-209
619-388-2774
Mental Health Website
MIRAMAR COLLEGE
Mental Health Services
Office K2-102
619-388-7881
Mental Health Website
San Diego County Local Resources
For information about campus safety (Clery Act) and available resources, please see the district's Safe and Sound guide.
Counseling Services for Employees
Counseling services for employees are available through the Employee Assistance Program (EAP) at 888-625-4809
District Policies
For District policies and procedures pertaining to discrimination, harassment, sexual assault, student rights, responsibilities and code of conduct, as well as student discipline, click on the links below:
Sexual Harassment/Assault Prevention and Awareness
The sexual harassment of students, including the crime of sexual violence, is a form of sex discrimination and interferes with students' right to receive an education free from discrimination and, in the case of sexual violence, is a crime.
Sexual violence, as that term is used in this section, refers to physical sexual acts perpetrated against a person's will or where a person is incapable of giving consent due to the victim's use of drugs or alcohol. An individual also may be unable to give consent due to an intellectual or other disability. A number of different acts fall into the category of sexual violence, including rape, sexual assault, sexual battery, and sexual coercion. All such acts of sexual violence are forms of sexual harassment covered under Title IX.
What is Consent?
Law defines consent as the affirmative, conscious, and voluntary agreement to engage in sexual activity. Affirmative consent must be ongoing throughout sexual activity and can be revoked at any time. Silence, the existence of a dating relationship or past sexual relations, is not by itself assumed to be an indicator of consent. The person must act freely and voluntarily and have knowledge of the nature of the act or transaction involved. Emmeline May authored a very simple, yet useful metaphor that help explains consent using a cup of tea.
If they are unconscious, don't make them tea. Unconscious people can't answer the question, "Do you want tea?" because they are unconscious.
Simple isn't it? Please watch this video using Emmeline May's "Cup of Tea" example to help explain what is consent.
Student Training
The San Diego Community College District wants to work together with you to foster a safe, healthy, and vibrant campus community at San Diego City, Mesa, Miramar College and Continuing Education. As part of that commitment we have implemented an online student training on the prevention and awareness of sexual harassment and assault. All new students are expected to complete Haven: Sexual Assault Prevention Training.
To take these, you will need a computer with Internet access and audio capabilities. Smartphone or tablets may be used but must have a stable internet connection. If you do not have access to a computer, you can use any publicly available computer with Internet access.
The course is strictly confidential; San Diego City, Mesa and Miramar Colleges and Continuing Education will only receive information about the student body as a whole and will NEVER see any individual student's answers.
Students will receive an invitation to create their EverFi account to complete the training.
Responsible Employee
Most District employees are, according to Title IX law, "responsible employees," meaning that they are legally obligated to report certain conduct of which they are aware of to the Title IX Coordinator. The Title IX Compliance Office has prepared a short video that explains exactly what this means and exactly what responsible employees must do to fulfill their legal obligations.

Take a few minutes to review the video to ensure that you know exactly what to do if you receive notice of a Title IX incident:
Additional Resources
Federal & State Laws
Community Resources:
Center for Community Solutions: 24-Hour Hotline: 888-385-4657
Coastal: 858-272-5777
East County: 619-697-7477
Women's Resource Center (North County): 760-757-3500
Women's Legal Center of San Diego: 619-699-5700
San Diego Police Department: 619-531-2000
The San Diego LGBT Center: 619-692-2077